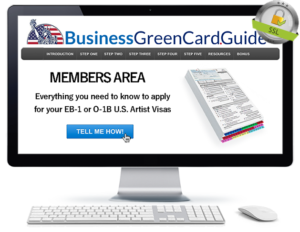 O1 Benefits include:
Not necessary to have a visa previously
You have the choice to self-file or use an attorney
Your family can accompany you
Valid up to 3 years 
In our guide:
EVERYTHING you need to DIY your O-1 Business Visa

One Full O-1 Petitioners Letter/Cover Letter Sample
Several Sample Recommendation Letters that work
Itinerary Sample
Sponsor Contract Sample
Analyses of the Filing Forms I-129
Each criteria broken down for evidence
Sample paragraphs for each criteria
USCIS Cases and Documents
Includes Extension and Change of Sponsor

DIY O-1 Visa | Extension
DIY O-1 Visa | Change of Sponsor
Benefits of this visa:
No cap on visas granted each year
Does not require a college education
Does not tie you to any employer or sponsor
You can be sponsored by your own U.S. company
Does not restrict you to a prevailing wage
Does not require any particular amount of capital to be invested into the business.
O1-A GUIDE
Guidelines – The Strategy – Planning your application.
We lay out the facts of how the O-1 Visa works, what all is involved, and when each step takes place. We give you a strong overview of the whole process so that you are ready to begin your application with a clear view of the finish line.
The O-1 – What is it exactly? Who is it for?

Do I qualify? – How to assess your chances.

To Self-File, Or Not To Self-File – Applying with or without an attorney.

Timeline – How long is the process? What to file when.

Precautions – Some things to avoid that you might not think of.
STEP ONE – The Evidence
We explain each of the criteria and how they relate to the business world, as well as interpretations that USCIS examiners won't accept. We explain how to gather strong and compelling evidence. Here we also show you how to further prove your intent to continue working in your field as well as your benefit to the United States of America. See US government advice here.
Good Evidence – What makes compelling proof?

Bad Evidence – How to anger your examiner!

How Much? – Compelling without overloading?

Presentation – Highlighting, Numbering & Binding.

Recommendation Letters – Who to get them from and what they need to say.

Deal Memos and Letters of Intent – Prove you will continue to work.

Consultation Letters – Labor Union approvals.

The Criteria – The criteria explained and how they apply to you.

Recommendation Letters – How to maximize their efficiency.
STEP TWO – The Petition Letter
We guide you in writing your petition letter – if you use an attorney, this is what you will pay them to do for you. The letter is written in the third person, from your sponsor's perspective. We deconstruct the formatting and wording of the letter to best present your case. The letter is a formula and we decode it all out for you. You might have heard of the Kazarian v. USCIS, 580 F.3d 1030, 1036 (9th Cir. 2009) Case? No? Don't worry, we have, and we use the findings to help you build the compelling case that the examiner needs.
Make life easy for your Immigration Officer.

One criterion at a time – How to present your case and weave it together.

Choosing the phraseology that will connect you with your examiner.

Sample letter segment for each criteria referencing the evidence samples.

Closing Statements – How to wrap up, summarize, and seal the deal.

We give you a Sample Petition Letter written from a business entrepreneurial slant.
STEP THREE – Filing the Forms
We explain the required forms.
Check out the USCIS break down here. All the forms that apply to the O-1 application are available for free here
Most applications require the Form I-129 – O-1A Visa.
We show you how to package the application correctly for your examiner.
Want to bring your significant other and kids? Maybe your make-up artist, agent or manager? We show you how.
We also detail the Consular Processing application.
STEP FOUR – The USCIS Decision
You are approved!! Fantastic!
How to prepare for your Consular Interview – your visa may be approved but you can still be denied by your local Embassy.

Request for Further Evidence? Don't worry, approval statistics are in your favor, you just have to follow the USCIS instructions and you will convince your examiner to approve your application.

Denial – You receive an NOID (Notice of Intent to Deny) You may be able to argue their decision.
You are approved at your interview – WOOHOO! The work is not yet done – we layout your first steps through the Port of Entry into the United States (Social Security etc.)
There's more…
O1 EXTENSION
How to apply for an O1 Extension
Filing the Forms
Writing the Petition Letter
O1 CHANGE OF SPONSOR
How to apply for n O1 Change of Sponsor
Filing the Forms
Necessary evidence
Writing the accompanying cover letter
DOWNLOADS
Evidence Checklist – An editable spreadsheet you can use to log your evidence in each category

Progress Checklist – An editable spreadsheet you can use to plan and monitor your progress

Itinerary – Sample 3 year itemization of "activities" or "events"

Sample Index of Exhibits

Sponsor Contract

Deal Memos

Recommendation Letter Samples

USCIS Cases
And even more…

BONUS MATERIAL – Because we want you to succeed!
These added value bonuses will help you to strengthen your career paper-trail. To succeed in an all paper application you need strong published evidence and we are here to help you build that portfolio.
Press Releases – How to write them and where to send them.

8 Goal Setting Techniques

Marketing Materials – How to publicize and market your work.

Your Career Online – Yes, they will google you!
Have questions? Check out our FAQ page.


We can now offer a 6 month financing option with no interest through PayPal for our Artist Green Card Guides. Select 

 as your payment method on checkout. If this option is not available you may need to apply by clicking here.